Recently I spoke to the global VP of a large multinational organization. She has been thinking about leaving her company and starting her own business for three years now. What's worst, she works in a field that is highly prone to becoming automatized and injected with artificial intelligence applications for repetitive tasks within the next two to three years. She feels the end of her profession as she knows it breathing down her neck. And yet… she is still there. Why are you still in your role, I asked her. To which she had no reasonable answer.    
I have seen this behavior over and over again. Both men and women engage in "feeding the zombie," but if I were to be perfectly honest, I noticed this behavior way more often in women than I did in men.
We stay in zombie-like companies because:
We love what we do
We like our teams
We are loyal to our role and to the company brand
We don't want what we have built to go to waste
But mainly - we are afraid of losing the perks of our corporate job.
Oh yeah. Corporate jobs come with a lot of perks.
I mean, just think about it:
Shares in the company that hopefully would yield your retirement one day (soon)
Yearly double and triple-digit bonuses
A latest model company car
A company credit card for various (often personal) expenses
Paid holidays
Paid travel to nice destinations for conferences and client meetings
Paid insurance / taxes / supplementary retirement fund
Paid you-name-what, from training to corporate retreats and so on and so forth.
But the true elixir of the gods that companies feed to their top executives is PRESTIGE.
It's one thing to be the global VP for sales in Microsoft, for example – all doors open ahead of you automatically and you might even start to believe that YOU are as important and relevant as your role or your company brand (disclaimer: you aren't).
This is why the threat of anonymity, of becoming a yet another no-name starting entrepreneur who, God forbid, needs to open their own doors can turn into a real terror.
And that's why we fail to see that the zombie – aka our polished-on-the-outside beautiful company with a toxic culture – has been feeding us prestige for brains, when it reality it has been feeding itself on our brains and on our souls.
COMPANIES HAVE DESTINIES TOO, AND SOMETIMES THEY REACH THEM
In a course on systemic dynamics in organizations in 2017, our teacher Jan Jacob Stam, the founder of the Bert Hellinger Institute Netherlands mentioned something that stopped me in my tracks.
"Like humans, complex systems such as teams and organizations also have a destiny. As such, the time comes for them to fulfill their destiny, and then they have no more reason to exist. The problem is that we anthropomorphize these systems and we hang on to them long after their destiny – or their destiny in relation to us – has been fulfilled. This is why we suffer – because we fail to see that our company or our relationship with it has reached its destiny and now it's time for a new enterprise."
In a way, we behave like children in relation to their parents. It's terrible and terror-inducing for a child to even consider losing a parent. Our whole survival depends on it.
But in relation to our companies we are not children anymore. We are fully-fledged adults who are – or should be – in charge of their own destinies. And while the child survival emotional and mental pattern may kick in, which is normal, it's also our job as adults to recognize it, to pacify it, and ultimately to put it to rest.
I keep thinking about Jan Jacob Stam's wise words as I talk to women caught in the conundrum of endless transformation in their organizations, dreaming of living lives on their own terms and yet ever so frightened to take the next step – either to exit the corporate world completely and start their own business, or to exit their company and start looking for a company that really deserves their vision, energy, and time investment.
Funnily enough, these companies are there, on the market. They may not have (yet) the prestige and the glow of Google, Microsoft, Facebook, Salesforce and the likes, but what they do have is HOPE.
What they do have is a destiny ahead of themselves, not behind.
Don't get me wrong – serving a company is worth it regardless of the phase of the company existence, from the start-up phase to the accelerated growth to the stable business management to the downturn and transformation. But staying in a company because we are afraid of taking the next step has never been a good decision.
Trust me when I say this. In 2009-2010 I threw all my weight into the ring, doing every single thing I could to safeguard Czech Business Weekly, our economic magazine where I was then working as chief reporter and, ultimately, deputy editor in chief. Before its closure I would write 20 to 25 of the 64 pages the magazine issued weekly; it was me and four editors who had stayed to hold the trenches after everyone in the reporter team left.
Deeply in love with my work, I failed to see that our beautiful paper was not a zombie in itself, but it was infected. Our magazine was held prisoner by a zombie – a publishing house with rotten management practices that collapsed at the first whiff of economic crisis in April 2010.
By not recognizing that I was part of a zombie system I woke up at the end of April 2010 laid off from a day to another, with one month severance pay, no savings, a mortgage on my neck, and no skills to make a living in a different industry than in the media which I loved and for which I had trained my whole life.
Becoming an entrepreneur has not been my choice; for me, it had been a matter of survival, so I can bring home quickly the money to pay my mortgage in June.
That's why I am so surprised and confused when I see corporate executives with hefty savings and networks I would have died for back in 2010 holding on to zombie roles and companies that are only too happy to convince them they are still alive.
So, if you have been thinking about taking your next career step, please stop feeding the zombie. Do what you've got to do, make a plan for your next career step or craft your business plan, choose one solid business target audience, and just go for it. It has never been a better time in our history to start something new than today.
Otherwise, with every moment you postpone your decision, you feed the zombie. The problem is: it's not only you who feeds the zombie. It's the zombie who, ultimately, feeds on your soul and on yours gifts that our world desperately needs right now.
YOU DON'T KNOW HOW TO TAKE THE NEXT STEP IN YOUR CAREER AND LIFE? YOU ARE NOT SURE WHETHER YOU SHOULD MOVE TOWARDS A NEW, HEALTHIER ENTERPRISE, OR TOWARDS ENTREPRENEURSHIP? DROP ME AN EMAIL AT CRISTINA.MUNTEAN@VORNICA.COM AND LET'S TALK.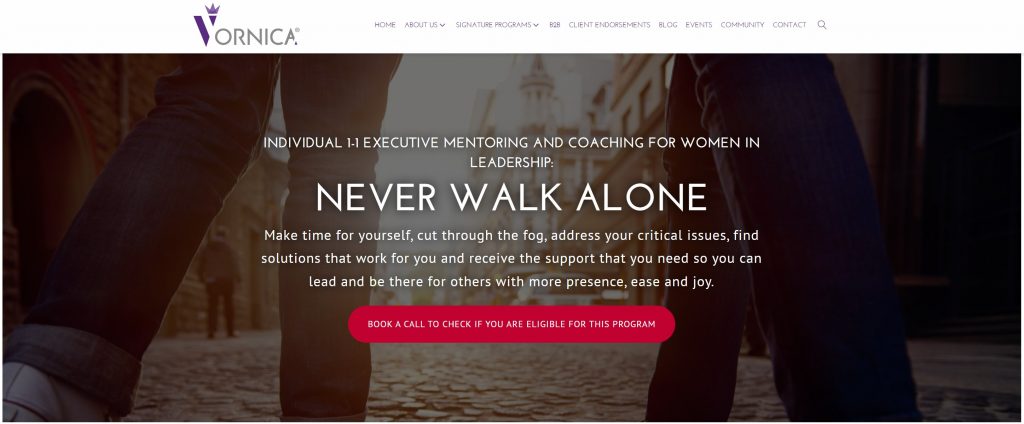 LET'S PUT TOGETHER A SMART NEVER WALK ALONE 1-1 VIP WORKSHOP FOR YOU. YOU CAN ALSO CHOOSE FROM THE RICH MENU OF STRATEGIC EXECUTIVE MENTORING PACKAGES OF 3, 6, OR 12 60-MINUTE SESSIONS THAT WILL PROVIDE WITH ALL THE SUPPORT, INSPIRATION, RESOURCES, AND GUIDANCE THAT YOU NEED TO STOP WASTING YOUR TIME. REACH OUT NOW AND PUT THE ZOMBIE TO REST. IT MAY HAVE JUST AS WELL REACHED ITS DESTINY.